seminar
Since May 2016, we have convened a twice-monthly Neuroethics Seminar at the UCSF Mission Bay campus, in collaboration with Jalayne Arias. The purpose of the seminar is to engage neuroscientists and clinicians in broad, interdisciplinary conversations about ethical and policy issues arising in their work. In addition to providing a forum for stakeholders to explore their own ethical concerns about situations they face, we also aim to foster new scholarly collaborations that emerge from novel questions at the forefront of research and clinical practice. In general, our meetings follow one of three formats: (1) case discussions arising from ethically complex clinical encounters or research developments, (2) journal clubs drawn either from recent neuroscience or neuroethics literature, and (3) works-in-progress to refine upcoming grants, conference abstracts and manuscripts.
To be added to the mailing list, contact Celeste Fong at celeste.fong (at) ucsf.edu.
upcoming:
recent meetings:
Today's discussion centered around positive Alzheimer's disease biomarker status disclosure and the preclinical caregiver, a concept described by Emily Largent in her recent opinion paper as the anticipatory caregiving role family members assume upon realization that their presently unimpaired loved one is at risk of developing clinical dementia symptoms. Jalayne Arias led our conversation, offering insights from her legal and bioethics background as well as her research investigating discrimination and biomarker status.
Largent posits that the passage of laws encouraging early care planning coupled with the transition toward a pathological, biomarker-centric conceptualization of AD will drive diagnosis prior to the onset of cognitive decline and increase early involvement from family members, who will likely experience emotional and psychological stress. Within our group, we clarified the current state of the science by emphasizing the limited predictive power of biomarkers, especially among asymptomatic populations. In light of the unclear connection between AD biomarkers and disease progression, we expressed concerns that diagnosis on the basis of biomarker positivity might stoke unnecessary fears, ignite family conflict, trigger investment in long-term care insurance that may never be of use, and reduce access to affordable life insurance coverage. With the knowledge that individuals often experience suicidal ideation after receiving a positive AD biomarker status, we considered the mental impact on preclinical caregivers, from feelings of isolation to anxiety regarding prognosis uncertainty. We also acknowledged the potential benefit of biomarker disclosure on early engagement in advanced care planning, a process that becomes particularly challenging if performed post-diagnosis, as patients often exhibit cognitive deficits that jeopardize their capacity to make decisions. Legally, we questioned whether individuals with AD biomarker positivity fall within the ADA's definition of a person with a disability, and if they and their caregivers qualify for benefits, including employment leave and caregiver support.
---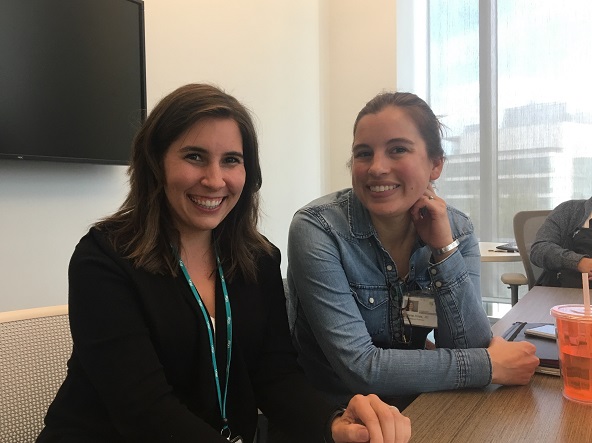 Melanie Stephens led another journal club discussion in a series we have hosted regarding persons with Down syndrome, this time with a focus on ethical predicaments that arise in the research setting. Drawing from arguments presented in Licia Carlson's paper, "Research ethics and intellectual disability: Broadening the debates," we addressed participant capacity and decision-making, disability rights and stigma, and challenges with protocol execution and outcome measurement.
We began by acknowledging the historical context of conducting research with persons with intellectual disability, referencing research abuses at Willowbrook and other sites, and our consequentially heightened concerns about avoiding exploitation of this vulnerable population. We discussed the need to balance protection and inclusion of persons with intellectual disability within research as a matter of justice, since clinical trials, for instance, may benefit those with access to enrollment and provide an appropriate evidence base for the development of future therapies. Additionally, we questioned how researchers might advocate for destigmatization of intellectual disability while simultaneously developing treatment, an effort which could perpetuate stigma.
Using Alzheimer's disease research with persons with Down Syndrome as an example, we explored the challenges of obtaining consent from, administering lengthy neuropsychological assessments to, and measuring cognitive improvement in participants with intellectual disability. Regarding informed consent, we discussed promoting a person's best interests in lieu of capacity, described the difference between surrogate decision making and supported decision making, and compared scenarios for overriding participant dissent within research as opposed to clinical care. After obtaining consent, the research protocol may require adjustments in order to accommodate persons with intellectual disability, who may not tolerate mentally taxing tasks or may feel especially uncomfortable in the lab environment. In response to the limited applicability of traditional cognitive measures for capturing improvement in this population, we highlighted the importance of inquiring about functional outcomes, such as success in completing daily at-home tasks.
---
Winston Chiong led a journal club discussion about a recent Nature comment written by Nita Farahany, Henry Greely, and Charles Giattino in response to a Yale study, called BrainEx, in which investigators restored and preserved some cellular functions, from microcirculation to spontaneous synaptic activity, in whole pig brains that were perfused four hours after death. Our group discussed implications the BrainEx study may have for future research and clinical applications. Winston also shared his perspective as a member of the NIH Neuroethics Working Group, who consulted the study investigators on ethical research conduct.
We considered how future access to whole-brain models may contribute to medicine and neuroscience, for example, by aiding stroke research and enabling deeper investigation into the structural organization of the brain than currently feasible using neural tissues and cells. A potentially revolutionary tool, the BrainEx perfusion system and its success in restoring limited function to post-mortem brains challenges a widely-held notion that brains incur irreversible damage within seconds to minutes of blood flow disruption; although there was already substantial clinical evidence to suggest that this view was outdated. Brain models like those in BrainEx raise troubling questions questions regarding moral status and sentience. We wondered if perfusion closer to time of death might enable restoration of more complex capacities, such as consciousness and pain perception, and if so, how researchers ought to detect (e.g., EEG, TMS) and suppress (e.g., anesthetics, neuronal activity blockers) their presence. We also discussed how partial restoration of brain function might impact public understanding of brain death, the future of organ donation and transplantation, and animal welfare laws, which presently do not protect research specimens obtained from animals raised for food production.
---
In this case discussion led by UCSF professor of neurological surgery, Philip Starr, we addressed multiple ethical dilemmas of using off-label medical devices to treat rare pediatric movement disorders. Throughout our conversation, we referred to the American Academy of Pediatrics' policy statement, "Off-Label Use of Medical Devices in Children".
Whole genome sequencing has enabled the discovery of lesser-known genetic mutations that cause movement disorders in children for whom traditional therapies are unsuitable. Increasingly, these patients receive treatment through physician-directed, off-label (i.e., not FDA approved) use of medical devices. Off-label use, however, raises concerns regarding payment and expectations of clinical outcomes. Dr. Starr and other members of the UCSF Surgical Movement Disorders Center presented the case of a child with a rare form of dystonia whose parents sought treatment via off-label deep brain stimulation (DBS). The clinical team expressed concerns about the family's ability to pay for treatment in the event of health insurance coverage denial, noting the possibility of accruing millions of dollars in medical bills over time. We questioned the ethical permissibility of screening for socioeconomic status when determining treatment eligibility, asking whether rejection of low-income families constitutes an unjust barrier to access or a justifiable protection against financial turmoil. We also addressed the hyperbolic, miraculous language used to describe off-label DBS in an online crowd-sourcing campaign, which the patient's parents created in an attempt to raise funds. The group reflected on the informed consent process, and wondered whether this inaccurate portrayal of treatment benefits reflected the parents' genuine expectations or constituted a strategy to induce sympathy from donors. We also shared concerns about parents' sense of desperation potentially clouding their ability to appreciate the financial burden, clinical limitations, and scarcity of research knowledge regarding off-label DBS for their children's conditions.
---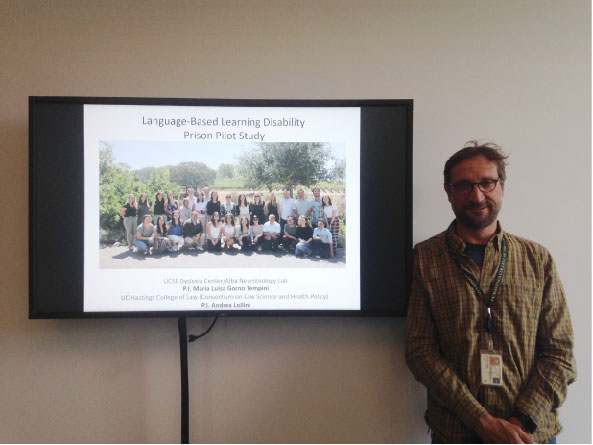 Adjunct UC Hasting Professor of Law, Andrea Lollini, presented preliminary findings from an ongoing pilot study on language-based learning disabilities (LLDs) within an all-female prison population. An interdisciplinary collaboration between the UCSF Dyslexia Center, Marilu Gorno Tempini of the UCSF Memory and Aging Center, and the UCSF/ UC Hastings Consortium on Law, Science and Health Policy, this project aims to determine the prevalence of LLDs among incarcerated persons, use a data-driven approach to inform best practices for LLD identification and remediation within prisons, and develop standardized LLD screening tools and teaching methodologies for future use in prisons.
To date, the study team has recruited over 260 inmates, who are undergoing dyslexia screening through a series of exams including a medical intake, a social history interview, a neurodevelopmental history questionnaire, and a cognitive battery. We discussed the ethical challenges of administering these assessments within a correctional environment. Regarding consent, we discussed Andrea's use of the teach-to-goal model as a solution to concerns regarding enrollment of participants deemed vulnerable due to their incarcerated status and potential reading and writing disabilities. Andrea also described the challenge of his role as a research interviewer seeking to understand participant narratives and build rapport. He acknowledged the emotional toll endured by participants who share their traumatic experiences, as well as researchers who must exercise empathy while remaining within the bounds of the prison's strict conduct policy. In considering the broader legal and social implications of this project, we reviewed the increasing rate of diagnosis for LLDs in the general US population; the relationship between LLDs, low educational attainment, and reduced employment access; and the present gap in knowledge regarding how LLDs specifically affect prison populations.
---
previous meetings:
May 13, 2019 - NIH BRAIN Initiative Neuroethics Roadmap (Winston Chiong)
March 25, 2019 - Architecture, design and dementia (Emi Kiyota)
March 11, 2019 - Qualitative and social research (Daniel Dohan & Katherine Rankin)
February 25, 2019 - Care for persons with Down syndrome who develop dementia (Melanie Stephens)
January 28, 2019 - The Parkinson's disease mortality myth (Maya Katz)
January 16, 2019 - Unanticipated side-effects and investigator-participant relationships in aDBS for chronic pain (Prasad Shirvalkar)
November 26, 2018 - Linking social neuroscience and the traditional social sciences (Dan Dohan & Katherine Rankin)
November 19, 2018 - Consent for data sharing in dementia research (Jalayne Arias, Renaud La Joie & Jen Yokoyama)
October 22, 2018 - Artificial companions for older adults with cognitive impairment (Elena Portacolone)
October 8, 2018 - Consent and recruitment in neurophysiology studies (Joncarmen Mergenthaler)
September 24, 2018 - Personality changes in deep brain stimulation (Tobias Haeusermann)
September 10, 2018 - Experimentation in human brain model systems (Galen Dods)
August 27, 2018 - Position paper on dementia care ethics (Winston Chiong)
July 9, 2018 - Using genetic ancestry sites for criminal investigations (Jalayne Arias, Joanne Taylor, Jen Yokoyama & Jamie Fong)
June 25, 2018 - Capacity to marry and to consent to sex in dementia (Joanna Hellmuth & Mahnoor Allawala)
June 11, 2018 - Professionalized intimacy – care in the dementia village (Tobias Häusermann)
May 14, 2018 - Opioids in elder populations (Monroe Butler)
April 16, 2018 - Patient and caregiver perspectives on physician assisted death in ALS (Catherine Lomen-Hoerth)
April 2, 2018 - FAA regulations and preclinical Alzheimer's biomarkers (Matt Lawrence)
March 25, 2018 - California End of Life Option Act working meeting
March 12, 2018 - Brain death and the Jahi McMath case (Sharon Kaufman)
February 12, 2018 - Cognitive testing and political leaders (Jalayne Arias)
January 25, 2018 - Palliative medicine (Krista Harrison)
January 11, 2018 - Ethical issues in the management of patients with dementia (Winston Chiong)